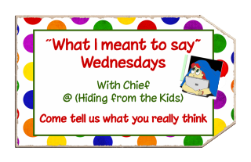 When the third prom sponsor didn't show up for decorating again and hasn't shown up at all and then said to the other sponsor and I that she wasn't going to stay at prom except for the meal and the other sponsor and I just looked at each other and then back and her and said, "okay,"
WIMTS: Are you kidding me? I totally understand wanting to be home with your baby, after all, that's where I want to be right now. However, we have the responsibility to do this stuff with the kids since we are assigned to be junior class sponsors. You knew at the end of the last school year that you were having a baby in February. You also knew that if you asked, someone else would be assigned to help us. This is not your first baby so you knew you would not want to stay after school to decorate or be at prom from 5 to midnight.
But really, should I be surprised? Didn't you do the same thing to me when you had your first baby, except in that instance instead of shirking you prom duties, it was being head volleyball coach?
See I would have said all that but
it would have been a waste of breath b/c she's a habitual responsibility shirker so clearly it would have had no effect
it was a lot to say in a minute before the juniors showed up
I'm a pansy that dislikes confrontation (this is probably the most accurate)