Since goal #8 is develop my photography skills I have been looking online for lessons and such. I found
Better in Bulk
which has a blogography challenge, co-hosted by
Manic Mother
and this one was on
aperture
.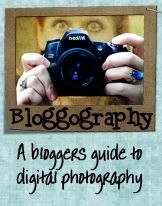 I think I have a pretty good handle on aperture, but I found the info and sample pictures a great refresher. It took me forever to get in in my head that "large aperture" equals small number. I also decided to add my pics to the challenge.
So here they are:
Small Aperture Pic: F 16
Large Aperture Pic: F2.2
I'm not going to lie; I love these two pictures. Probably because I used them to try to explain aperture and depth of field to my dad, who is officially a senior citizen (self-proclaimed). He clearly wasn't listening to me as I was explaining, because he said about the second picture,
"I understand, but this one looks blurry to me."
Aperture is one of my favorite things to play with when taking pictures. I have a 50 1.4, makes a great lens for low light situations and allows me to play with depth of field when I have lots of light.
In order to get the depth of field I want with my kit lens, I had to do some math. I have a 55-200 lens as well. If I have enough light, I can go to a focal length of 200 and then crank open my aperture to 5.6 and I have the same depth of field as my 50 at 1.4. You do have to have plenty of light (and hopefully my math was correct on this...). This has been really nice when taking, or maybe it is better stated as, trying to take, pictures of birds and having nice background.